SEPTEMBER 2020
TOUS to premiere "OSO" at San Sebastian International Film Festival
---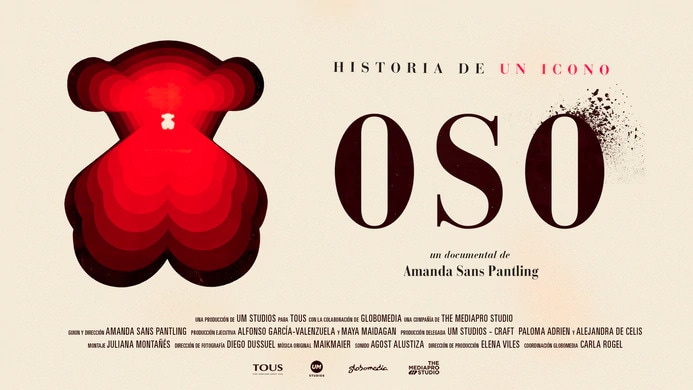 TOUS is celebrating 100 years of history with the premiere of the documentary "OSO" at the 68th San Sebastian International Film Festival on 25 September.
Then75-minute feature-length film tells the history of TOUS from its beginnings, when Salvador Tous's father started out as an apprentice watchmaker, and unpacks the business transformation process to becoming a global enterprise. It foregrounds Rosa Oriol, the mold-breaking creator of a new language in the world of jewelry whose democratizing vision gave women unprecedented reach with a design pivoted to a more independent, simple, and empowered lifestyle.
The documentary is directed by Amanda Sans ("Frágiles", "Las Street") and produced by Globomedia (The Mediapro Studio) for UM Studios. The director, with an extensive track record in documentary filmmaking and international experience, was key to capturing the depth of the TOUS history, depicting family and business relations.
Sans interviewed Salvador Tous and Rosa Oriol and their four daughters and present company executives Rosa, Alba, Laura, and Marta Tous. She also drew on the testimony of some 20 personalities from the worlds of fashion, design, journalism and art to explore the secrets to the brand's success and the obstacles it hasnhad to face over this century of history.
Company president Alba Tous said: "Taking part in this documentary was a wonderful opportunity to put these 100 years in perspective and show how we have been able to pivot our business and corporate culture to present requirements and future demands".
TOUS corporate vice-president Rosa Tous added: "I was particularly moved by the way it depicted my mother, whose astute vision was so far ahead of the curve that she understood society was changing and women were after jewelry they could wear any time of the day. Her endeavor created a type of jewelry that democratized the sector and shaped TOUS' future as a brand".
TOUS chief executive Carlos Soler-Duffo said the filmmaker had nailed the process TOUS has followed since 1920, from small family firm to international enterprise with over 4,000 employees around the world, operating in 50-plus countries through more than 700 stores.
Commemorative activities
In light of the complex global context, TOUS postponed the celebrations planned for the anniversary throughout 2020. Now, in the last quarter of the year, it will pick up where it left off with some of the most emblematic activities to share the joy of 100 years of history, despite the many challenges this year has entailednat all levels.
BACK